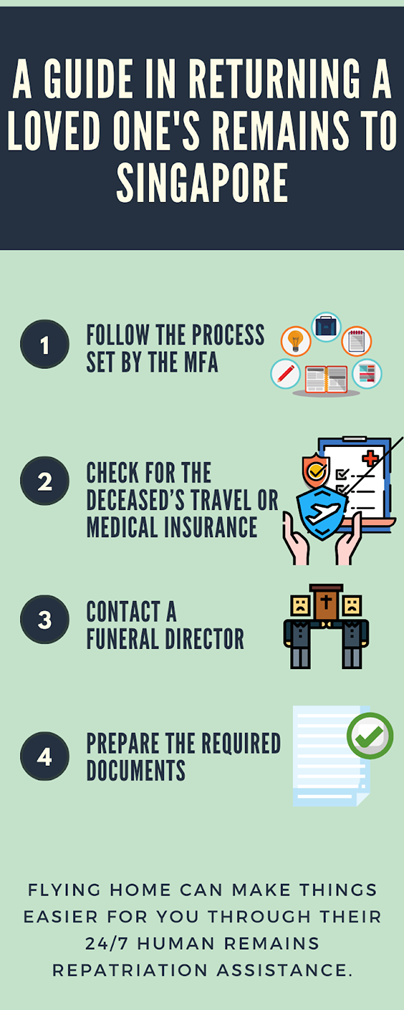 Every lost life in the family comes as a shock, especially if they left us while spending time overseas. Our time without them gets harsher because the challenge does not end after our loved one takes their last breath. We are faced with paperwork and, in this case, human remains repatriation procedures that can drain additional energy from us.
Repatriation occurs with necessary costs and measures. To ease the weight off your shoulders, here are four things you need to do when flying a deceased loved one back to Singapore:
Follow The Process Set By The MFA
Consular Officers from the Ministry of Foreign Affairs will inform you about the incident that involves the passing of your loved one. They can also advise you about the possible cost of repatriation that you need to cover. After the notification, you will need to decide who should fly overseas to identify the remains and collect your loved one's belongings.
Check For The Deceased's Travel Or Medical Insurance
Upon notification and verification, you will need to check if your loved one availed of travel or medical insurance before leaving Singapore. These compensation arrangements can cover the death and repatriation costs, which can be expensive.
Contact A Funeral Director
Find a reliable funeral director that is well-informed about the different human remains repatriation processes of various countries. They can also assist you in preparing, collating, and submitting all the necessary documents to the concerned authorities.
Prepare The Required Documents
Bringing the remains of your loved one back to Singapore requires repatriation documents and costs. You and the funeral director should obtain and submit a death, embalming, and sealing certificate with a coffin export permit and an airway bill.
Grieving while processing the death of your loved one with the MFA can be exhausting. Flying Home can make things easier for you through their 24/7 human remains repatriation assistance. Visit their website below to learn more about their support services for the mourning family of a loved one who passed overseas.